Back To Our Services
Electronic driveway gates are the perfect solution for home security and convenience which is why so many home owners in the US opt to make them a part of their house. Yet they can take damage from time to time from a number of sources, making it all the more important for you to have a trusted gate repair technician on call.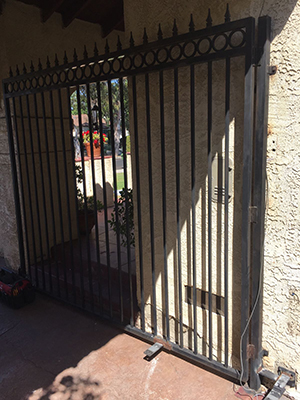 Problems you may encounter
Whether you have a swing or sliding gate that is metallic or wooden, ensuring that it continues to provide you and your family with adequate protection means you need to keep it in great condition. However rust from unfavorable weather conditions, galvanic corrosion, wear and tear and even accidents could mean that you need your hinge welding repaired, your motor replaced or even the gate restored when trouble begins to brew.
Small accidents could leave your gate misaligned, so too could the stress of its suspended weight overtime. When this happens, it could affect the operation of your gate and worsen its condition, calling for a need for driveway gate adjustment to rectify it.
Damp and harsh weather conditions could rust or rot your gate in a relatively short amount of time, compromising its structural integrity and putting your family at risk, not to mention being an eyesore. So when this happens, have your rotten gate repaired by an experienced technician who can restore it in no time.
If your driveway gate at home needs a little work, give us at "Garage Door Repair Closter" a call today to have one of our professional technicians take a look at it for you.
Contact us today for more information or a quotation, and we'll make sure your gate is up and running in no time!
Back To Our Services